Fiberglass is quickly becoming the preferred pool material of homeowners. Although the initial cost will be higher than a vinyl liner pool, the long term benefits are endless.  Your family will love the features of a fiberglass pool:
Smooth Non-Porous Surface
White and Colored Finishes
Durability
Low-maintenance
No liner to replace
Elegant Designs
Built in Steps, Sun Ledges & Safety Ledges
Mosaic Tile
Salt Friendly
K-Built has partnered with the best fiberglass manufacturers in the industry offering only the strongest pools with the best warranties.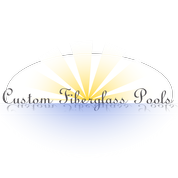 Why choose K-Built to install your pool?  Have you ever heard the expression, "You thought is was expensive to hire a professional? Wait until you hire an amateur!"  That sums it up!  Our construction team brings many years of experience and is extremely skilled with the installation techniques of these type applications.
Create a lifetime of memories in your new fiberglass swimming pool! Contact K-Built Pools & Spas today to learn more or to schedule your FREE site evaluation.